Along the River Mur –southern and northern parts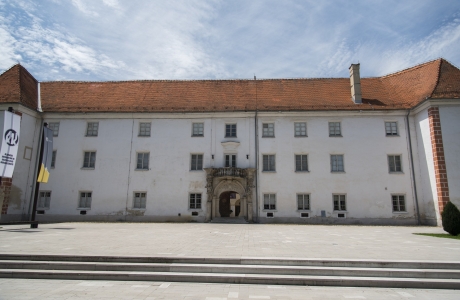 Type of the trip: individual bike tour
Difficulty: this route is for advanced and beginner cyclists
Route conditions: paved bike path and road, Occasionally, the route climbs up or hilly
Duration: 3-4 days
Recommended bicycle: trekking or road bike
This region is so rich in sights that it is worth cutting the route up into three parts, and dedicate at least 3 or 4 days to the whole tour.
Along the River Mur –southern and northern parts
Route description:
This road takes us from Lovászi to Gornja Radgona (Regede) along the right side of the River Mur, then we get back to our starting point on the left side across Murska Sobota (Muraszombat). The main settlements of the route are the following: Tornyiszentmiklós, Petišovci, Razkrižje, Veržej, Gornja Radgona, Murska Sobota, Ižakovci, Hotiza, Lendava.
The terrain along the river is pleasantly even, at first it is slightly going uphill then downhill. Finally, between Lendava and Lovászi there is rolling country. The route is between Croatia and Austria, which is a pleasant tour with several unknown treasures.
Distances in km
| | | |
| --- | --- | --- |
| Lovászi |   | 0 |
| Tornyiszentmiklós | (46.5158, 16.5572) | 4 |
| Pince |   | 7 |
| Petišovci | (Petesháza, 46.5250, 16.4639) | 20 |
| Hotiza | (Murarév) | 31 |
| Razkrižje | (Ráckanizsa, 46.5200, 16.2750) | 47 |
| Veržej | (46.5817, 16.1622) | 65 |
| Radenci (Radány) |   | 78 |
| Gornja Radgona | (Regede, 46.6753, 15.9925) | 85 |
| Radenci (Radány) |   | 92 |
| Murska Sobota | (Muraszombat, 46.6600, 16.1631) | 107 |
| Ižakovci | (Murasziget, 46.5833, 16.2125) | 120 |
| Hotiza | (Murarév, 46.5482, 16.3591) | 134 |
| Lendava | (Lendva, 46.5642, 16.4533) | 147 |
| Rédics |   | 158 |
| Lenti | (Lentiba) | 163 |
| Lovászi |   | 173 |
Attractions along the route
Tornyiszentmiklós
Church of Saint Nicholaus
Local History Collection
Petišovci (Petesháza)
Veržej
Church of Saint Michael Archangel
Babič Water Mill (46.5924, 16.1667)
Gornja Radgona (Regede)
Gornja Radgona Castle
Radgonska klet wine cellar
Muraszombat (Murska Sobota)
Church of Saint Nicholas
Lutheran Church
Castle
Ižakovci (Murasziget)
Museum ship mill (46.5802, 16.2070)
Island of love
Hotiza (Murarév)
Oxbow lake (46.5505, 16.3672)
Calvary
Attractions near the route (tips)
Lendava
Moravske Toplice
Lenti
Lenti Thermal Spa and St.Georg Energy Park
Accommodation options